Conversatie in park
Privécollectie (niet te koop)
Van dit werk maakte de Loterie Nationale gebruik als ansichtkaart voor reclamedoeleinden.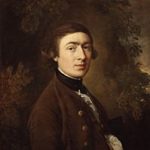 Gainsborough, Thomas
Thomas Gainsborough (naamvariant: sir Thomas Gainsborough) werd op 14 mei 1727 in Sudbury (Suffolk) geboren en overleed op 2 augustus 1788 in Londen. Hij volgde een kunstzinnige opleiding aan de Saint Martins Lane Academy of Art in Londen. Daarnaast was hij leerling bij onder andere Hubert François Gravelot en Francis Hayman. Later volgde zijn neef  Dupont Gainsborough en Wiliam Jackson weer lessen bij hem. Thomas had onder andere grote invloed op schilders als John White Abbot, Thomas Bar...
Klik hier voor de hele levensbeschrijving en al onze werken van Gainsborough, Thomas.
Heeft u een vraag of opmerking over 'Conversatie in park'? Dan vernemen wij dat graag. Gebruik daarvoor het onderstaande formulier.